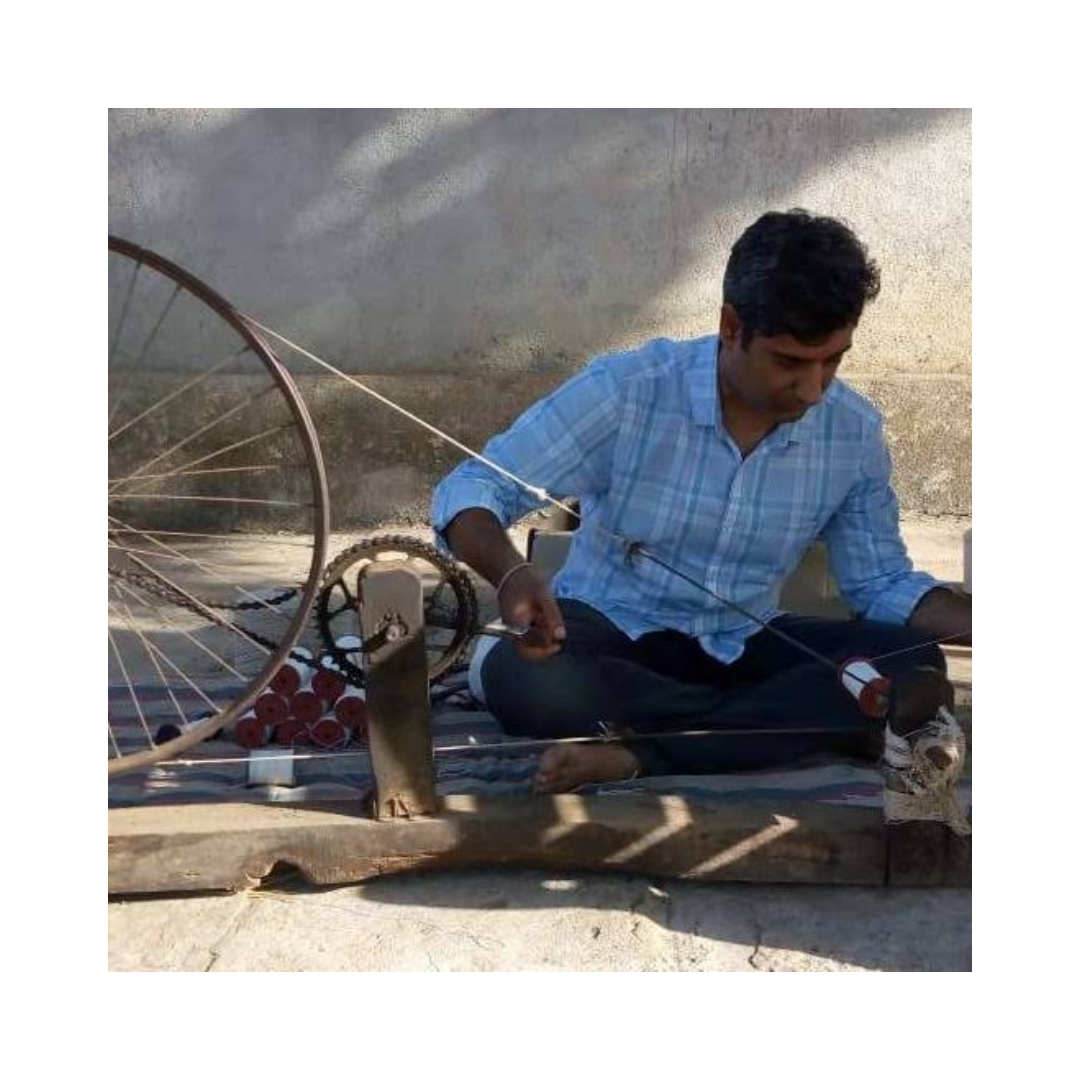 From Migrant Camp in Jammu to Founding EcoKaari - Humanising Fashion; Journey of Nandan Bhat
From Migrant Camp in Jammu to Founding EcoKaari - Humanising Fashion; Journey of Nandan Bhat
by Sumedh Nagaraj June 15, 2021
I was a typical corporate stereotype working with a reputed multinational organization that ensured a promising career and a comfortable take home package at the end of every month. A production engineer by background, armed with MBA in Marketing, and backed by a plethora of sales and marketing experiences across diverse sectors, I was making a rapid headway up that symbolic ladder. Had I stayed in the race, I would have some day retired with a fat package, a healthy bank balance and a cozy second home tucked away somewhere in the mountains.
My connect with the mountains and in turn with mother nature is rooted deep within me. The memories take me back to my childhood spent in a quaint village, Chanderhama, nestled in the laps of those majestic mountains of Kashmir. But these memories are short-lived as insurgency uprooted us and we ended up in the migrant camps of Jammu. Resources were scare and resourcefulness was the only key to survival there. Life is a great teacher and the lessons that I learnt there during my budding years stayed with me for my life.
Times improved and I moved on to the city of Pune for completing my education. It was during this time that I got hooked on to trekking in the lush green Sahyadris. My studies over, I had to relocate my family to Pune and in order to sustain myself I took a plunge in the corporate world. Thankfully, the nature of my job allowed me to travel extensively. It was during these treks and my travels that I got an opportunity to connect with nature. Such opportunities provided a great release from stress but at the same time, I used to be at pain to see urban trash, mainly in the form of plastic, littering the beautiful countryside. This would then drive me to reflect on the purpose of my life. Since my college days, I had always wished to be an entrepreneur and had spent countless hours bouncing various business ideas with my friends. It was time, I thought, to put some of these ideas into action and do something worthwhile about things close to my heart.
But, I realized that toying with an idea in the head and manifesting it seamlessly were a different ball game altogether. The reality hit hard as soon as I took the plunge. Had it not been for an unwavering support from my better half and from my immediate family, I would have never made it. I had to funnel in finances, procure a suitable space for setting up a workshop, arrange for the hardware and raw materials to run the show, assemble a like-minded team, upskill them, set up processes, quality checks, pitch for customers and at the same time keep the show running at home with a toddler and ageing parents to support. Things, however, gradually began to fall in place as EcoKaari started taking shape.
 I had set out to upcycle plastic waste into beautiful handcrafted fabric using charkhas and handlooms with the help of women and youth from a humble background. This fabric would then be used to design daily utility items such as handbags, fashion accessories, home décor and office stationery products. I had a two-pointed goal in my mind; to re-use, re-cycle, up-cycle plastic waste in the hope of salvaging the Ecosystem and to provide a better opportunity and a means of livelihood to the Kaarigars, the artisans. This was how EcoKaari was born.
Finances taken care off, I managed to find a place to set up shop and assemble a team of designers, artisans skilled at bag making, tailoring and related crafts, and staff for marketing. I took great care to handpick people whose thoughts were aligned to my goal, so that together, we could gel as a team, and work with synergy. Since EcoKaari is about artisans, I was on a lookout for handlooms and charkhas, which I managed to track down from a remote village near Solapur. Soon it arrived and was sitting snugly in my workshop. My next challenge was to procure raw material and find an expert to train us in setting up and working on these handlooms. My team helped me find a skilled handloom craftsman who used to teach in a nearby school for blind. He not only helped us to set up and fine tune these handlooms but also trained us on using them to weave the fabric. For the raw material, we collaborated with organisations who work with waste pickers, packaging industry and conscious customers who donate to us.
Now, you may be wondering why the fuss about raw material when it is available in abundance all around. But the sad reality is that at this point of time, we just cannot use all and any plastic waste lying around. To understand the thought process that goes behind procuring it, let me tell you something about the journey of transformation which this plastic waste goes through at EcoKaari. Most of this plastic waste comes from disposed packaging materials, packets or bags of chips, cookies, gift wrappers etc. which we segregate based on their thickness, size and colours. We wash them using minimal water and natural detergents and then hang them out to dry in the sun. We, then cut them by hand using scissors and rolled on a traditional charkha and finally woven into a fabric on the handlooms. From here, our designing team and our master tailors take over and transform this fabric into a variety of beautiful and colourful utility products. In order to get a long, consistent thread and make weaving easy, we cannot use sachets or straws that are small, packets that are cut at the corners or ripped open, or hard plastics like tetra packs, CDs or PET bottles. We are in a constant process to educate our raw material suppliers as well as our well-wishers who donate their plastic waste, about this cliche. Sounds interesting right?
As you can see, our processes are manual labour oriented and involve a degree of craftsmanship. Before our products can hit the market, they undergo stringent quality checks to rule out any design or manufacturing flaws. This increases the production time, all of which in turn increases the price of our final handcrafted products. Meanwhile, in the background, our sales and marketing team works with various corporates, wholesalers and retailers to customize our products to suite individual needs. We also sell our products directly through exhibitions in India and through export partners in the international markets. We conduct awareness sessions in schools, colleges, companies and neighbourhood societies. We also work with targeted groups to generate new ideas or to carry out feasibility studies to see if this model can be successfully replicated elsewhere. Our workshop is open to anyone who is interested in taking a peek at the work which goes on at EcoKaari. Our EcoKaari website will tell you about the various ways to get in touch with us.
For us, this journey has been an interesting one albeit full of surprises; some good, other nasty. Along the way, I have made many good friends; some have stayed on while others have dropped out. Whenever life has thrown a punch, I have learnt to dust off these failures and get going, taking with me only the learnings from these bitter experiences. I feel glad and satisfied to know that our efforts are eventually being recognized nationally as well as internationally by leading national dailies, famous media houses, eminent policy makers, and youtube bloggers. This journey, however, is far from over. There is an immense ocean that awaits to be bridged. I feel like that tiny squirrel from our epic Ramayana who helped the warrior king to build a bridge in the ocean by carrying specks of sand. And at EcoKaari, we intend to keep going till we have successfully built that symbolic bridge.