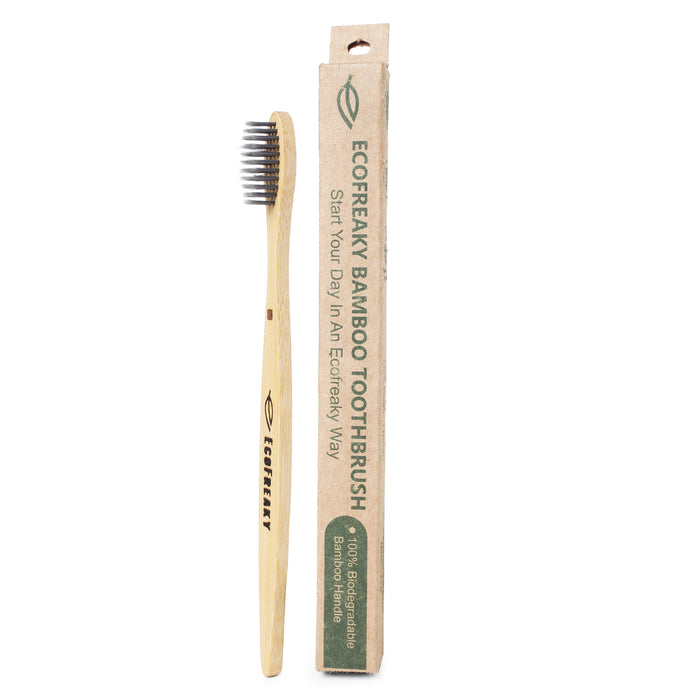 Sold out
Original price
₹. 59.00
-
Original price
₹. 59.00
Availability:
Out of stock
EcoFreaky Premium Bamboo Toothbrush | Extra soft bristles
EcoKaari x EcoFreaky
Introducing Ecofreaky's Premium Bamboo Toothbrush - eco-friendly and sustainable. Say goodbye to plastic toothbrushes and embrace a more eco-friendly and sustainable alternative with the Bamboo Toothbrush. Made from biodegradable and renewable bamboo, this toothbrush is perfect for those who want to reduce their carbon footprint and contribute to a healthier planet.
Benefits of Ecofreaky's Premium Bamboo Toothbrush:
Eco-friendly to plastic toothbrushes.
Biodegradable and compostable handle.
Ultra-soft bristles, which are gentle on the teeth and gums.
Activated charcoal-infused bristles
The antibacterial properties of bamboo help to prevent bacterial growth on the toothbrush.
The ergonomic handle provides a comfortable grip and makes brushing easier.
Perfect for travel,
Affordable
Zero waste
Features of Premium Bamboo Toothbrush:
Here are some of the amazing benefits of using our bamboo toothbrush:
Biodegradable and Sustainable Toothbrush
Our Bamboo Toothbrush is a perfect choice for environmentally conscious consumers who care about Green living. Plastic toothbrushes can take a long time to disappear from our planet; our toothbrushes will naturally decompose in just a few months, making them a perfect choice for reducing waste.
Ergonomic Handle for Comfortable Grip
Designed with an ergonomic handle, it provides a comfortable grip that fits perfectly in your hand. The smooth and lightweight design allows for easy manoeuvrability in your mouth, making brushing your teeth a breeze.
Ultra-Soft Bristles for Sensitive Teeth
Our ultra-soft bristles are gentle on your teeth and gums, making it an excellent choice for people with sensitive teeth. The soft bristles also help prevent damage to your tooth enamel while still effectively cleaning your teeth.
Activated Charcoal for Enhanced Cleaning
Our Bamboo Charcoal Toothbrush is infused with activated charcoal, which is known for its antibacterial properties and helps to eliminate harmful bacteria from your mouth. The activated charcoal also helps to remove stubborn stains and discolouration from your teeth, leaving them sparkling clean and bright.
Antibacterial Toothbrush
The Bamboo Toothbrush is naturally antibacterial, making it an excellent choice for maintaining optimal oral health. The bamboo's natural antibacterial properties prevent bacteria from growing on your toothbrush, reducing the risk of infections.
Usage and Care

EcoKaari's products are a great choice as your go-to everyday options. You can prolong the life of the products more by following some of our tips below.

Spot clean only. Color may bleed if washed with others.
Do not store or dry in direct sunlight.
Keep away from extreme heat i.e., Dryers, Heaters, Iron etc.
When not in use, kindly keep the respective product stuffed with newspapers to maintain its shape and store in the original packing it came in.

For any help, please connect here
Return, Exchange and Shipping Policy
Repair and End of Life

'Closing the loop,' philosophy is essential to us.

Whenever your EcoKaari product needs repair (free lifetime) or is close to the end of its life cycle, please return it instead of throwing it away so that we take responsibility for safe disposal.

Please connect here
Personal & Corporate Gifting

GIFT OF CHANGE: Positive change with a significant impact on women's lives and the environment. 

We at EcoKaari, welcome conscious customers and corporates like you and are so glad you want to become a part of this fantastic green journey with us! 

For every occasion, for every client, personal or corporate, we have a plethora of UPCYCLED-HANDWOVEN products. Our skilled artisans can customise the gifts according to your needs! 
Manufacturing Details

Country of Origin: Proudly Made in India 🇮🇳

Brand Owned and Marketed by: EcoKaari Private Limited

Registered Address: EcoKaari - Humanising Fashion. S.No 43/1/2/3/4B/5, Besides Swarajya Society, Ashiyana Chandrangan, NDA Road, Ganpati Matha, Warje Malwadi, Pune - 411058 (Maharashtra, India)

To contact us - click here
Delivery Time
Orders take 3 - 10 working days post dispatch from Pune to reach anywhere in India. In some cases, it might take more time, due to local restrictions and during special sale periods. 
Delivery times are approximate and is dependent on the Logistics Partners. Depending on your location, Fridays, Saturdays, Sundays and Public Holidays may not be considered business days.