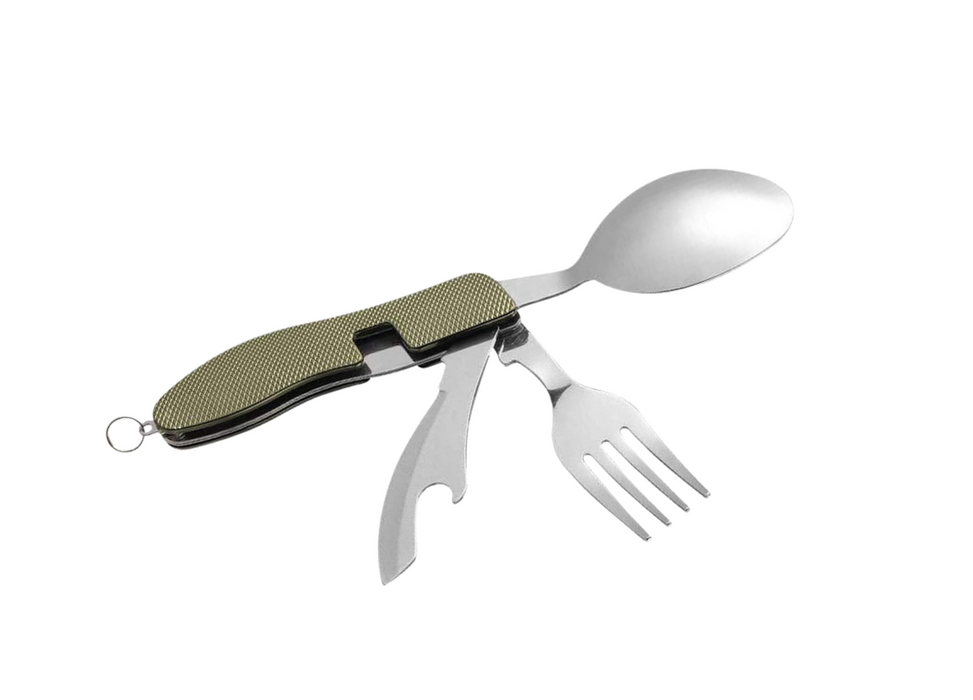 Original price
₹. 349.00
-
Original price
₹. 349.00
Availability:
10 in stock, ready to be shipped
EcoFreaky Foldable Stainless Steel Cutlery
EcoKaari x EcoFreaky
Introducing to you EcoFreaky's Foldable Steel Cutlery, the perfect solution for those on the go. With its compact size, foldable design, and travel-friendly construction. It's the best choice for travelling, camping, or everyday use. Made from high-quality stainless steel, it is durable, easy to clean, eco-friendly, travel friendly, and it fits in your backpack or even your pocket, making it an ideal choice for you and our environment, which makes it a must-have accessory for anyone.
Features of EcoFreaky Foldable Stainless Steel Cutlery 
Eco-friendly:
Stainless steel is an eco-friendly material, plus it is BPA-free and can be recycled and reused many times. By using our product, you can reduce your environmental footprint and contribute to a cleaner planet.
Foldable and Small in Size:
Our Stainless steel glasses are designed to be compact and foldable, making them easy to store and transport. The best part is that it can fit even in your pocket and backpack, and this makes it an ideal choice for travellers.
Easy to Clean and Maintain:
Our foldable steel cutlery is made up of premium stainless steel and is resistant to stains, rust, and corrosion. It can be easily cleaned with soap and water, making it a low-maintenance option.
Durable:
Our foldable steel cutleries are strong and durable made up of premium stainless steel, and can withstand the wear and tear of everyday use without showing signs of wear. This means that users can rely on their foldable steel cutlery for years to come, even with frequent use.
Must-have Accessory for Travellers :
Being foldable, compact in size and lightweight, it can be stored anywhere, which makes this portable cutlery a must-have accessory.
Benefits of Ecofreaky's Foldable Stainless Steel Cutlery 
Portable and compact design for easy travel and storage
Unique foldable feature for convenience on-the-go
High-quality stainless steel for durability and long-lasting use
Non-porous surface for easy cleaning and maintenance
Rust-resistant and safe, making it a healthy choice
Lightweight and easy-to-carry design
Compact
Reduces the need for plastic cutlery
Modern and stylish design for a sleek look in any setting
Zero waste
Usage and Care

EcoKaari's products are a great choice as your go-to everyday options. You can prolong the life of the products more by following some of our tips below.

Spot clean only. Color may bleed if washed with others.
Do not store or dry in direct sunlight.
Keep away from extreme heat i.e., Dryers, Heaters, Iron etc.
When not in use, kindly keep the respective product stuffed with newspapers to maintain its shape and store in the original packing it came in.

For any help, please connect here
Return, Exchange and Shipping Policy
Repair and End of Life

'Closing the loop,' philosophy is essential to us.

Whenever your EcoKaari product needs repair (free lifetime) or is close to the end of its life cycle, please return it instead of throwing it away so that we take responsibility for safe disposal.

Please connect here
Personal & Corporate Gifting

GIFT OF CHANGE: Positive change with a significant impact on women's lives and the environment. 

We at EcoKaari, welcome conscious customers and corporates like you and are so glad you want to become a part of this fantastic green journey with us! 

For every occasion, for every client, personal or corporate, we have a plethora of UPCYCLED-HANDWOVEN products. Our skilled artisans can customise the gifts according to your needs! 
Manufacturing Details

Country of Origin: Proudly Made in India 🇮🇳

Brand Owned and Marketed by: EcoKaari Private Limited

Registered Address: EcoKaari - Humanising Fashion. S.No 43/1/2/3/4B/5, Besides Swarajya Society, Ashiyana Chandrangan, NDA Road, Ganpati Matha, Warje Malwadi, Pune - 411058 (Maharashtra, India)

To contact us - click here
Delivery Time
Orders take 3 - 10 working days post dispatch from Pune to reach anywhere in India. In some cases, it might take more time, due to local restrictions and during special sale periods. 
Delivery times are approximate and is dependent on the Logistics Partners. Depending on your location, Fridays, Saturdays, Sundays and Public Holidays may not be considered business days.