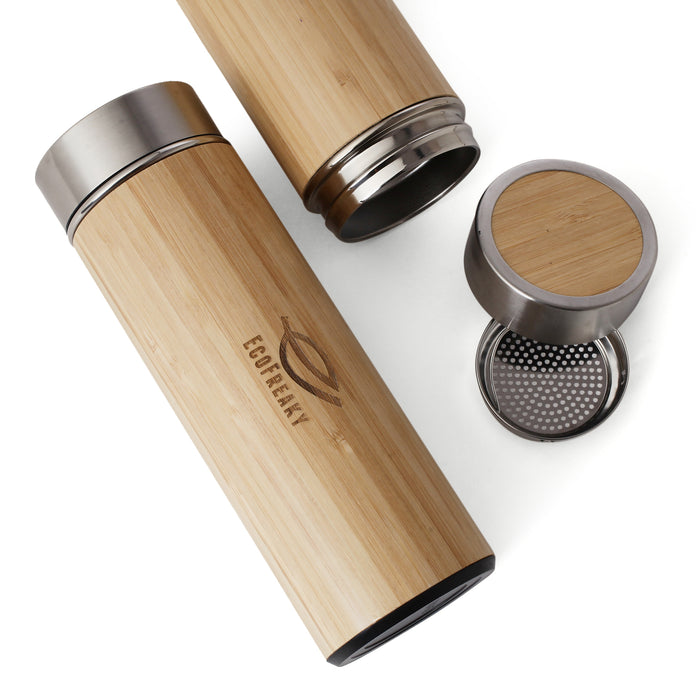 Original price
₹. 799.00
-
Original price
₹. 799.00
Availability:
8 in stock, ready to be shipped
EcoFreaky Bamboo Water Bottle | With insulated stainless steel case and tea filter
EcoKaari x EcoFreaky
Introducing EcoFreaky's Bamboo Water Bottle, the eco-friendly to your hydration needs! This bottle is not just any ordinary bottle but a smart replacement for plastic bottles that cause environmental damage.

Made with organic bamboo and insulated stainless steel, this bamboo bottle is designed to keep your drinks at the perfect temperature. Whether you're going to the office, school, or travelling, this stylish and durable bottle will be your trusted companion. Say goodbye to disposable plastic bottles and switch to this reusable and eco-friendly Bamboo Water Bottle.
Benefits of EcoFreaky's Bamboo Water Bottle:
Eliminates the risk of consuming harmful microplastics
An insulated Bottle Keeps drinks at the perfect temperature for hours
The sleek and stylish design is perfect for use at school, in the office, or while travelling
Durable and long-lasting, perfect for daily use
Made from organic bamboo and stainless steel, safe
Easy to clean and maintain
Reduces plastic waste and helps the environment

Feature of EcoFreaky's Bamboo Water Bottle:
Great replacement for plastic bottle
Plastic bottles have become a major environmental issue, polluting our oceans and harming wildlife. Not only that, but plastic bottles can also contain microplastics, which can leach into the water you're drinking. With a bamboo water bottle, you won't have to worry about consuming these harmful particles.
Steel-insulated water bottle
The double-walled insulation of this bamboo water bottle ensures that your drinks stay at the desired temperature for hours. Whether you're sipping on a hot cup of coffee or a refreshing iced tea, this bottle will keep your drink at perfect temperature.
Stylish design
The attractive design of Ecofreaky's bamboo water bottle makes it a great accessory to take with you on the go. It's perfect to use at school, in the office, or while travelling. Plus, the unique bamboo exterior adds a touch of sophistication to your daily routine.
Durable
Made from organic bamboo and stainless steel, this water bottle is designed to last. Its durability makes it perfect for daily use, whether you're running errands or hitting the gym and it's easy to clean and maintain.
FAQ
Are bamboo bottles safe?
A: Yes, bamboo bottles are safe. They are made from natural bamboo and are free from harmful chemicals like BPA and phthalates. Bamboo is also a sustainable and renewable material, making it a great alternative to plastic bottles.
Usage and Care

EcoKaari's products are a great choice as your go-to everyday options. You can prolong the life of the products more by following some of our tips below.

Spot clean only. Color may bleed if washed with others.
Do not store or dry in direct sunlight.
Keep away from extreme heat i.e., Dryers, Heaters, Iron etc.
When not in use, kindly keep the respective product stuffed with newspapers to maintain its shape and store in the original packing it came in.

For any help, please connect here
Return, Exchange and Shipping Policy
Repair and End of Life

'Closing the loop,' philosophy is essential to us.

Whenever your EcoKaari product needs repair (free lifetime) or is close to the end of its life cycle, please return it instead of throwing it away so that we take responsibility for safe disposal.

Please connect here
Personal & Corporate Gifting

GIFT OF CHANGE: Positive change with a significant impact on women's lives and the environment. 

We at EcoKaari, welcome conscious customers and corporates like you and are so glad you want to become a part of this fantastic green journey with us! 

For every occasion, for every client, personal or corporate, we have a plethora of UPCYCLED-HANDWOVEN products. Our skilled artisans can customise the gifts according to your needs! 
Manufacturing Details

Country of Origin: Proudly Made in India 🇮🇳

Brand Owned and Marketed by: EcoKaari Private Limited

Registered Address: EcoKaari - Humanising Fashion. S.No 43/1/2/3/4B/5, Besides Swarajya Society, Ashiyana Chandrangan, NDA Road, Ganpati Matha, Warje Malwadi, Pune - 411058 (Maharashtra, India)

To contact us - click here
Delivery Time
Orders take 3 - 10 working days post dispatch from Pune to reach anywhere in India. In some cases, it might take more time, due to local restrictions and during special sale periods. 
Delivery times are approximate and is dependent on the Logistics Partners. Depending on your location, Fridays, Saturdays, Sundays and Public Holidays may not be considered business days.