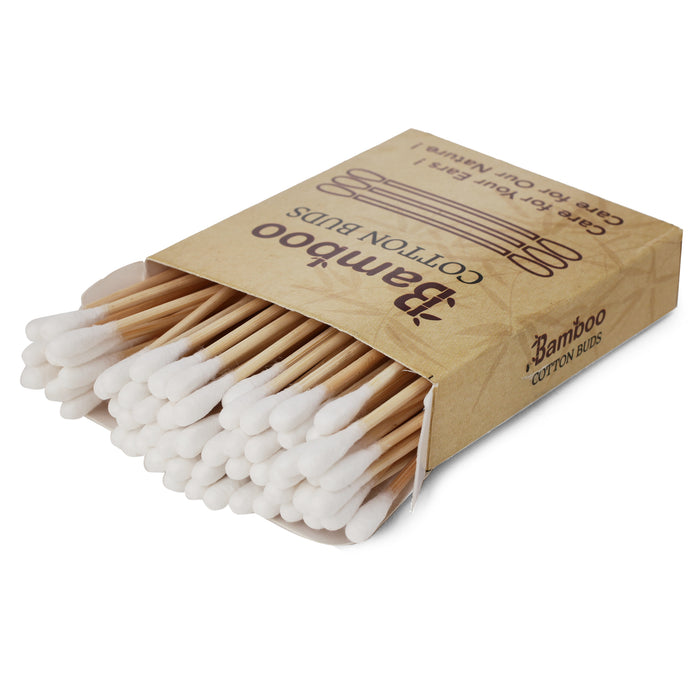 Original price
₹. 49.00
-
Original price
₹. 49.00
Availability:
Only 3 left!
EcoFreaky Bamboo Cotton Buds | Cotton earbuds for cleaning and makeup removal
EcoKaari x EcoFreaky
Introducing EcoFreaky's Bamboo Cotton Earbuds. Made with 100% natural and biodegradable bamboo and cotton, our earbuds are gentle on the environment and on your skin. Our earbuds come with organic cotton, which is gentle and absorbent. Our earbuds are versatile and perfect for personal hygiene, beauty and cosmetics, crafts and hobbies, household cleaning, and pet care. Experience the difference with our bamboo cotton earbuds and take a step towards a cleaner and greener future.

Benefits of EcoFreaky's Bamboo Cotton Earbuds:
Double the amount of cotton yarn on cotton swabs
Better absorbency compared to regular cotton earbuds
Made with premium quality pure cotton
It can be used for multiple purposes, such as applying makeup, cleaning, and artefacts
A bamboo stick is naturally stiff and durable, making it ideal for everyday use.
Eco-friendly packaging makes it a responsible choice
Ideal for those with sensitive skin
Clinically Tested
Zero Waste
Features of EcoFreaky's Bamboo Cotton Earbuds:
Eco-Friendly:
Ecofreaky's cotton buds are Made with natural bamboo, a grass which grows on its own, and it doesn't require any chemicals or pesticides; our cotton swabs are made up of organic cotton instead normal cotton and can be safely disposed of after use.
Soft and Gentle:
Our cotton earbuds feature pure organic cotton, which is gentle on your skin and ear canal, and it comes with a bamboo stick which makes them durable, unlike silicone earbuds, which makes them an ideal choice for one's daily uses.
Multipurpose :
Whether you need to clean small or hard-to-reach areas, apply makeup, work on a DIY project, or clean your ear canal or pet care, earbuds are a multipurpose tool that can meet a wide range of needs.
Convenient:
Our earbuds come in a convenient and portable package that you can take with you wherever you go, making them perfect for use at home, at work, or on the go.
Eco-friendly packaging:
Our bamboo cotton earbuds come in eco-friendly packaging that is made from recycled materials and is recyclable or biodegradable after use.
Usage and Care

EcoKaari's products are a great choice as your go-to everyday options. You can prolong the life of the products more by following some of our tips below.

Spot clean only. Color may bleed if washed with others.
Do not store or dry in direct sunlight.
Keep away from extreme heat i.e., Dryers, Heaters, Iron etc.
When not in use, kindly keep the respective product stuffed with newspapers to maintain its shape and store in the original packing it came in.

For any help, please connect here
Return, Exchange and Shipping Policy
Repair and End of Life

'Closing the loop,' philosophy is essential to us.

Whenever your EcoKaari product needs repair (free lifetime) or is close to the end of its life cycle, please return it instead of throwing it away so that we take responsibility for safe disposal.

Please connect here
Personal & Corporate Gifting

GIFT OF CHANGE: Positive change with a significant impact on women's lives and the environment. 

We at EcoKaari, welcome conscious customers and corporates like you and are so glad you want to become a part of this fantastic green journey with us! 

For every occasion, for every client, personal or corporate, we have a plethora of UPCYCLED-HANDWOVEN products. Our skilled artisans can customise the gifts according to your needs! 
Manufacturing Details

Country of Origin: Proudly Made in India 🇮🇳

Brand Owned and Marketed by: EcoKaari Private Limited

Registered Address: EcoKaari - Humanising Fashion. S.No 43/1/2/3/4B/5, Besides Swarajya Society, Ashiyana Chandrangan, NDA Road, Ganpati Matha, Warje Malwadi, Pune - 411058 (Maharashtra, India)

To contact us - click here
Delivery Time
Orders take 3 - 10 working days post dispatch from Pune to reach anywhere in India. In some cases, it might take more time, due to local restrictions and during special sale periods. 
Delivery times are approximate and is dependent on the Logistics Partners. Depending on your location, Fridays, Saturdays, Sundays and Public Holidays may not be considered business days.