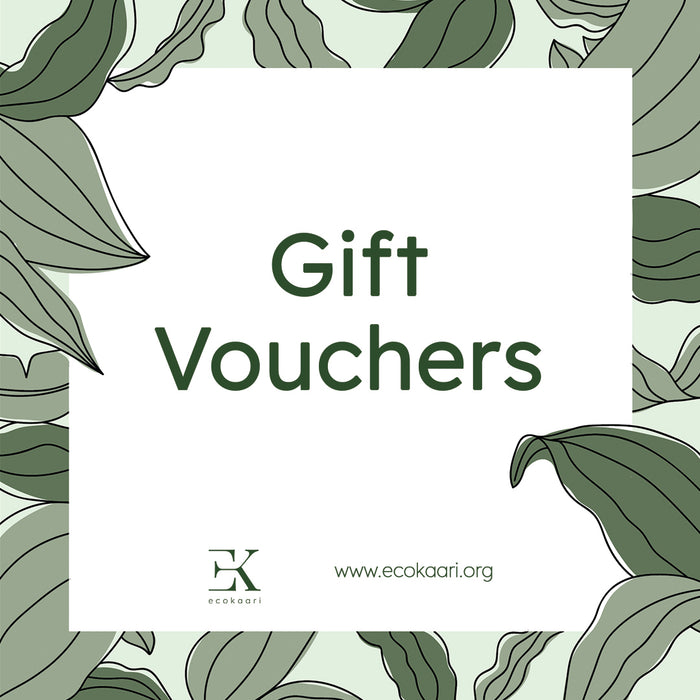 Original price
₹. 500.00
-
Original price
₹. 10,000.00
Gift Voucher
Doesn't gifts make every occasion memorable? But finding the right gift is often a frightening task! Spending hours pondering different things to figure out what the recipient might enjoy and use is too exhausting, and you might not return with the right gift! This is where EcoKaari's Gift Voucher comes to your rescue!!! So, pamper yourself or your loved ones by gifting them with EcoKaari!
Gift Vouchers are ideal for corporate gifting and personal giftings such as anniversaries, birthdays, weddings, festivals, and more.
Choose from denominations starting from ₹500 to ₹10,000, or connect with us to choose the amount according to your budget.

For queries or bulk booking, please mail us at info@ecokaari.org or +91 9022560305.
NOTE: The eko Gift Voucher has one-year validity from the date of purchase and no limit on spending on each shopping spree; shop as per your convenience, even during sale periods.
We send gift cards directly to the recipient's mail or deliver via courier in special packaging (Bulk orders only). 
Usage and Care

EcoKaari's products are a great choice as your go-to everyday options. You can prolong the life of the products more by following some of our tips below.

Spot clean only. Color may bleed if washed with others.
Do not store or dry in direct sunlight.
Keep away from extreme heat i.e., Dryers, Heaters, Iron etc.
When not in use, kindly keep the respective product stuffed with newspapers to maintain its shape and store in the original packing it came in.

For any help, please connect here
Return, Exchange and Shipping Policy
Repair and End of Life

'Closing the loop,' philosophy is essential to us.

Whenever your EcoKaari product needs repair (free lifetime) or is close to the end of its life cycle, please return it instead of throwing it away so that we take responsibility for safe disposal.

Please connect here
Personal & Corporate Gifting

GIFT OF CHANGE: Positive change with a significant impact on women's lives and the environment. 

We at EcoKaari, welcome conscious customers and corporates like you and are so glad you want to become a part of this fantastic green journey with us! 

For every occasion, for every client, personal or corporate, we have a plethora of UPCYCLED-HANDWOVEN products. Our skilled artisans can customise the gifts according to your needs! 
Manufacturing Details

Country of Origin: Proudly Made in India 🇮🇳

Brand Owned and Marketed by: EcoKaari Private Limited

Registered Address: EcoKaari - Humanising Fashion. S.No 43/1/2/3/4B/5, Besides Swarajya Society, Ashiyana Chandrangan, NDA Road, Ganpati Matha, Warje Malwadi, Pune - 411058 (Maharashtra, India)

To contact us - click here
Delivery Time
Orders take 3 - 10 working days post dispatch from Pune to reach anywhere in India. In some cases, it might take more time, due to local restrictions and during special sale periods. 
Delivery times are approximate and is dependent on the Logistics Partners. Depending on your location, Fridays, Saturdays, Sundays and Public Holidays may not be considered business days.